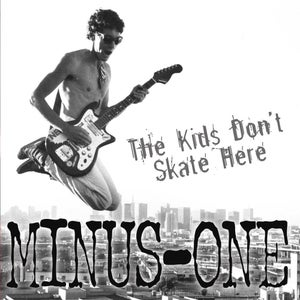 $

5.00 - On Sale
Punk Rock veterans and one of the
origional founders of the Skate Rock
genre, formed during the stirrings
of San Francisco Bay Area's fertile
punk scene.The band quickly built
a worldwide fanbase and gained
huge noteriety with a 1983 4
song inclusion on Thrasher
Magazine's "Skate Rock:
Volume I" (Hi-Speed Productions).
Minus-One also appeared on "One
Giant Leap," a compilation recording
released in England on Venture
Records in the same year. Minus-One
temporarily disbanded in 1986. They
later reformed the band in 2006 and
signed with DC-Jam Records in 2008
to release their first full length record
appropriately titled "The Kids Don't
Skate Here".
"Oh man this news of a new
Minus-One CD release made
my day!! I still have my original
Thrasher Skaterock #01 tape
and Minus-One were always
my favs, I was always a
sucker for the power
pop/mod feel of Minus One!"
Pat/Pelado Records
1. The Kids Don't Skate Here
2. Blindman
3. Nick of Time
4. Get Used To It
5. Bored Of It
6. Dude! Someone Must Have
Dropped You on Your Head
7. I Remember John
8. Siren Screams
9. Out of the Darkness